HEavy weather is minutes away, the[:-sonar] shows the following, I am at the tip of the white arrow right at the orange dot.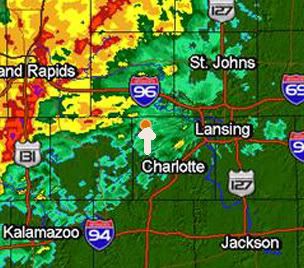 This image from WLNS-tv ch-6 radar in Lansing.
Hope fully all here have a great day. The day went well yesterday for me. Today we are "on call" as the Doll[:x]'s daughter in law is in the early stages of impending parenthood. She's had some medical problems and is in the hospital in K'zoo. I guess we are going to head that way sometime to see if we can be of some assist. I told them I've delivered two babies but not up to date on doing that.
Did a little painting on my Jordon Mack last night after my road trip to Mom's.
Well, gotta run, hope everyone has a great day. I intend to batten down the hatches and hope tht the power stays on if/when the storm hits. It is darkening out and we've had a touch of very light precip so far.
BE SAFE!!!