HAPPY ANNIVERSARY

MR. & MRS. McINTYRE


id=red> id=size5> id='Georgia'>
Howdy Everybody,
The goodies and hot stuff are ready and the juice is cold.
Now MikeC, nobody dun say y'all da only donut licker here 'bouts, just da only one we sees. 'Sides Sherry dun't leave no wet flipper prints on da floor.
Russ I trust their return trip will be sans egg or Emu. When are they due into Galveston?
Lay track and run trains.
id=size4> id=teal>
OUR NEWEST MODERATOR IS

L & N DEBBIE

*L & N FORUM*

id=red> id='Comic Sans MS'> id=size5>
JimF and kbj99

welcome to the rr-l id=orange> id=size5>
id='Georgia'>
Nelson
id=teal>
P.S. Remember, be courteous to one another.


id=teal>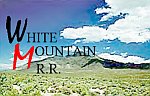 Edited by - shay driver on 09/28/2002 01:29:00