Good Morning All,
Doughnuts and sweet rolls await you this morning. The EG and coffee are hot; the juice is in the fridge.
Walt when are you moving? And to where are you moving? Can you take the French doors with you?
Brian thanks for the English chow yesterday. Just had time to grab a kipper on my way to Temple. Sure am glad that you had the salmon instead of the herring.
Jerry and I had a lot of fun meeting Debbie and David. I am here to tell you that they are real people and they are GOOD people, too.
They left the show with a trunk full of train mugs. Being that they stayed the night in Temple, the new mugs probably wont make it to the Brakeroom until tonight or maybe Tuesday morning.
Dave I didn't see Debbie with any paintbrushes, however you might want to check your new mug before filling it.
Do some "training" today.

id=size4> id=teal>

DAVE CONGRATULATIONS

ON EIGHT HUNDRED

TOP NOTCH POSTS



KEEP PILING 'EM ON

id=size4> id=brown>

id=green> id='Comic Sans MS'> id=size5>

Bob Miller

WELCOME TO THE RR-L id=navy> id=size5>

id='Georgia'>

Nelson

id=teal>

P.S. Remember, be courteous to one another.



id=teal>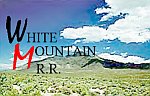 Edited by - shay driver on 09/23/2002 02:13:19