Russ's (Moss Lake) original post on how he made his Logging cars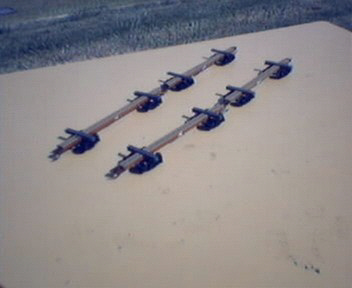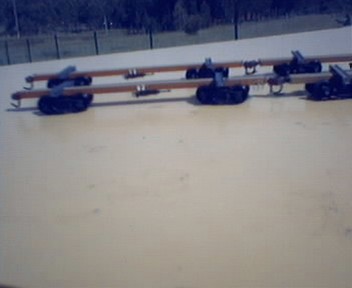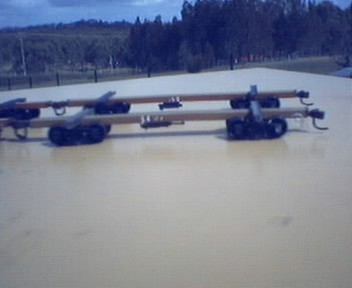 well I model a freelance logging company in the Pacific Northwest.
While I'm still in the early construction phase of things I've almost done all of the cars I need. I'm currently scratchbuilding a fleet of the 40' skeleton cars that seemed to be almost everywhere in that region. I subscribe to the KISS school of thought so while my cars look close enough for me they don't have any detail other than a brake wheel and a cast whitemetal 'K' brake cylander.
I start by cutting in half a piece of K&S No.266 rectangular brass tube. this is the centre beam. Next 2 holes are drilled each one a scale 7' from each end.A screw will attach the trucks at these holes. The brass is washed, primed & painted (I'm using that Modelmaster Acryl 'wood' not the best but it'll do) Using the finest tip felt pen I can find, I draw 2 lines down the sill, making it look like the 3 planks these cars are usually made from. I then cut 1 side out of a KD No.5 coupler box so it'll be a push fit into the sill but before adding the second box, I add some weight in the sill, usually whatever I can find (small nails or fishing sinkers). Bunks are just Evergreen I beam 10' long glued over the trucks with another square of styrene glued underneath the bunk and butting up to the sill.
Thats about it. I have 22 cars built this way and am aiming for 30.
All I have to add is the idea I had when I started these cars, something Bucks and Rusty Stumps might want to try (but dont blame me if it don't work out). Cut a shorter length of brass and bolt it to an arch-bar truck. That'll give you the centre sill of a disconnect. You're on your own as far as the bunk is concerned.
Edited by - nyc on 06/09/2002 09:21:37