I've been doing the subscription purchase of the Walther's 20th Century Limited streamline train.
I've documented the difficulties in drilling #80 holes for the grabs, and given it up.
Further I've received all the cars now and am in the process of getting them ready to run on my railroad. The Kentucky Southern is a fairly sizable layout with generous curves on all 300+ feet of mainline and #6 crossovers as well. Walthers labels their cars as capable of 24 inch radius capable except the RPO-Baggage that they say to allow 28 inches. With that in mind let me relate a few observations.
First, the cars are beautifully finished and look terrific. The interiors are the typical Walthers tan plastic, well detailed but not that great looking.
Secondly, the cars I've checked so far have some issues negotiating my curves. My first car to go on the test was the Lounge-Observation. It would derail consistently at the rear of the car. Closer examination determined that the framework of the rear truck was hitting the steps on the obs end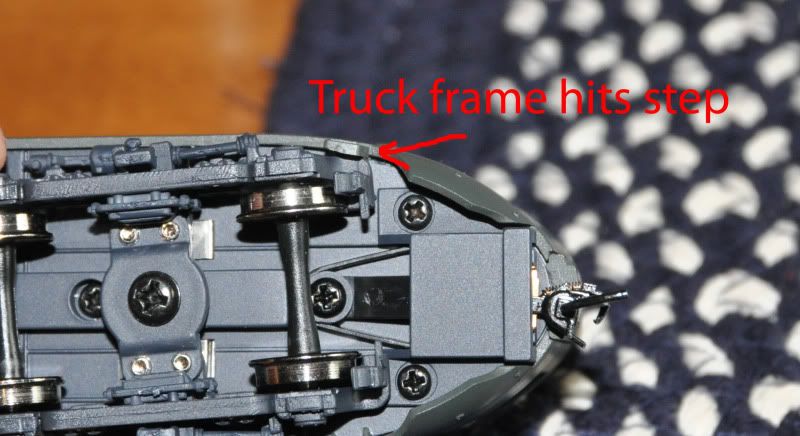 To eliminate this problem I removed the truck and proceeded to mill the framework down to clear the steps.
As fit was still tight I also tapered the inside of the steps slightly for just a tad bit more clearance.
I then put the car back together and back on the tracks. The test was repeated, as were the results....derailed again. This time I discovered that a tiny piece of detail (brake line?) was hooking underneath the lower edge of the car side still preventing the truck to swivel enough. I trimmed about 1/32" from the detail part and it then cleared the side of the car.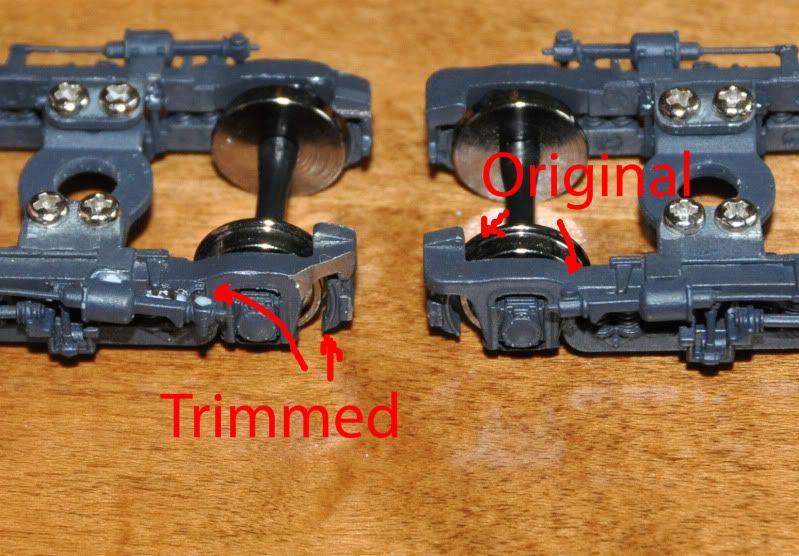 After all my mods the car was retested and performed as hoped. I found the little detail was a bit high on other cars as well.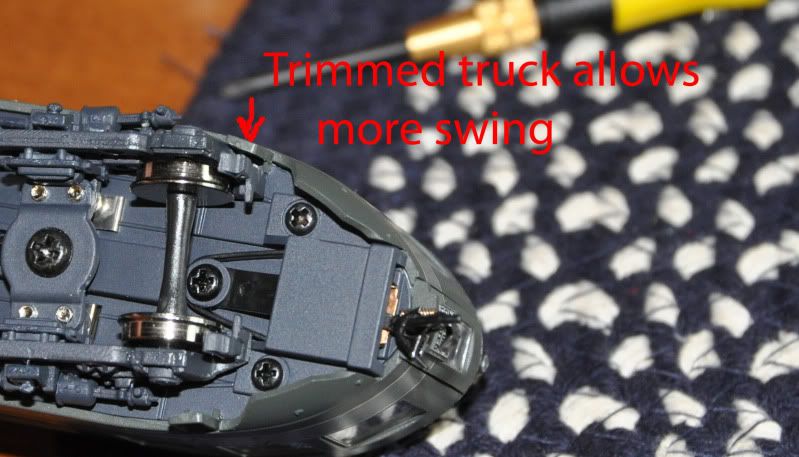 My next task was to work on the RPO. As per the intructions I notched the center sill to allow more truck swing. I found out, however, that the trucks still had a hang up and examination found that the roughly "U" shaped bracket for the couplers was catching the truck frame and preventing correct swing. I removed those brackets and tapered the edge of them and the trucks cleared.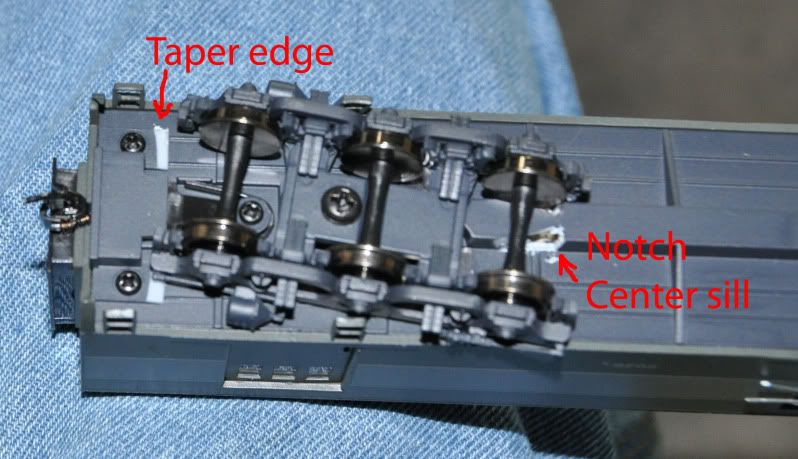 At that point I discovered that the little side detail mentioned above was also hitting the car side on this car as well, and I trimmed it.
Finally I took one of the sleeper cars with 4 wheel trucks out of the box and discovered the same detail was hitting the car sides so trimmed it as well.